EGYPTIAN GALLERIES
Some of my photographs are available to view on this site in the Extra Egypt Section of the Extra Galleries page
I have been submitting a substantial quantity of my photographs of Egypt on to Alamy.com at the expense of this website and should you wish to browse my material or even purchase it for publication could I suggest you use their Search facility under my name and Egypt or more specific subject description e.g. pyramids, Giza, tomb reliefs, Gods, Pharaohs etc. There is a direct live link on the Useful Web Links page.
As of May 2010, I have started my own online library called Crooktree.com and my first selection Egyptian material which is in addition to my large collection on Alamy, is in place. This collection will expand to include most of the Alamy material as well as extra unpublished work over the next year or so. If there is something specific you require please so not hesitate to contact me to see if I have photographs available. Colour prints or canvases can be obtained for some images on Galleryprintsuk.net
EGYPTIAN COLLECTION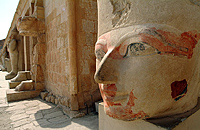 on Alamy includes:

Abu Simbel; Abu Rawash; Abu Ghurab; Amarna; Aswan; Alexandria; Abusir (Saqqara); Abydos; Beni Hasan; Cairo City & Egyptian Museum with interiors and selected Tutankhamun Exhibits ; Cruising; Dashur; Dendara; Deir el Medina & Ptolemaic Temple; Dime Elsebaa; El Ashmunein; El Lisht; El Sagha; Esna & Edfu Temples; Giza - Pyramids and the Sphinx, inside Great Pyramid and Tombs of Royalty; Hatshepsut Temple; Hawara; Heliopolis; Lake Nasser & all cruise sites; Karnak & Luxor Temples; Karanis; Kom Ombo Temple; Luxor City & Nile Views; Medinet Habu Temple; Merneptah - New Site; Nubian Museum in Aswan; Nubian Village on Seheil; Philae (Temple of Isis) Island; Pyramids (most); Ramasseum; Ramses Small Temple, Abydos; River Nile Life; Saqqara & Memphis; Seheil Island Rock Carvings; Seti 1Temple; Tanis; Tell Basta; Tuna el-Gabal; Various Temple & Tomb Interiors; Valleys of Kings & Queens and Tombs of the Nobles; Zawiyet e-Aryan.

All photographs are the Copyright of Jim Henderson

EGYPTIAN TRAVEL ADVICE FOR PHOTOGRAPHERS

Apologies for not making any galleries to date but my best material is viewable on Alamy.com or Crooktree.com. I felt that anyone planning a trip to Egypt might benefit from my recent experiences during MAY 2005 & October 2007, my last visit to Egypt. The latest trip was to Minya and Fayoum areas, so off the beaten track, less tourist friendly e.g. in quality of hotels in Minya and lacking in services such as postcards and stamps. Toilets on the trains (First Class) were a disgrace so be warned and a lot of rough road journeys including climbing to main rock cut tombs but the tomb paintings at Bani Hasan a wow although no photographs allowed.

I would suggest from my limited knowledge now that there is still an outright ban on all photography in the Museums (Cairo & Luxor) except for the Nubian in Aswan (no flash) and in the new delightful Saqqara Museum at the new ticket office but be warned the lighting in it is extremely low so that it is even a struggle with ISO1600 settings on film or camera. This ban also applies in the new small Museum at the Temple of Merneptah on the Luxor West Bank. Interior photography is now banned in the tombs of the West Bank in Luxor - Valley Tombs and Tombs of the Nobles, inside the Great Pyramid at Giza [not sure about the others but suspect also in place] and the Temple of Abu Simbel. If you want a pleasant, interesting sites for photography try the Temple of Seti 1or the Medinet Habu on the Luxor West bank. Plenty of reliefs, some coloured and stacks of natural light. Amarna Northern tombs allowed non-flash photography but Bani Hasan refused, as did Temple of Pitosiris at Tuna el-Gebal, where plenty of natural light and flash not needed. In the case at Temple of Ramasses 11 at Abydos - most coloured reliefs in bright sunlight and no restrictions.

I will express no opinion about these restrictions however as to the matter of flash photography I would advise anyone wanting to know the scientific basis for or against, to read Scientific Officer David Saunders's research at the National Portrait Gallery in London in their Technical Bulletin No 16 (1995). Some restrictions have been occasioned by bottlenecks with visitors insisting on being photographed in front of icons such as the Mask of Tutankhamun, so an understandable requirement when a whole tour group exercises this wish. Most Egyptian colours are mineral based and can stand thousands of years of sunshine as at Abydos, Medinet Habu and Kom Ombo.

Restrictions on travel are increasingly practiced outwith the main sites - I was denied permission (through tour-guide and taxi drivers refusing to go to Qus, Qift & Nag' el-Madamud - an hour or so from Luxor and a trip to the Gebel el-Silsila Quarries from Aswan was also cancelled because I would have to pay for a Police Escort. I understand visits to Abydos are only in a Police Convoy but we were allowed two hours so much more relaxed. Costs for individuals at outlying sites are high as an individual is treated as a group, e.g. $800 per site charged by SCA, in addition to travel costs.

Light Shows are OK about using tripods and no extra is charged. I didn't avail myself of the facility at Luxor Temple but 30EŁ extra is charged for use at night - it has a static light show until 9.00pm.

If you are cruising expect major delays at Esna Lock for a year or so (still one lock in 2007) although probably not a problem in 2016 with the large cutbacks in cruiseboats and an additional loch in operation - the only road bridge currently in operation is over the old barrage and is only open at selected times. Busiest I have seen the Nile traffic in years so expect huge numbers at all main sites. My first April trip - weather apparently unusually hot [40c] and the light often extremely poor - hazy, thin cloud cover and sandstorms. It rained in Cairo and a trip to Tanis in the Delta was muddy!

Noticed some digital material appearing e.g. batteries and a limited selection of storage cards. I took my own charger with two pin adapter and had no problems keeping my Fuji li-ion's in working order. The new Fuji S5 performed a treat throughout and used my laptop to archive to DVD's for 3000 images in 10 days.

No problems this trip with using a compact camera on the planes taking views out of the window and there are no such CAA regulations for ordinary cameras used on aircraft? However do not take photos inside the aircraft or of fellow passengers.